The Weight Debate: Obesity and Health Risks
We summarize competing theories on obesity, including behavioral guidelines for treating clients with obesity.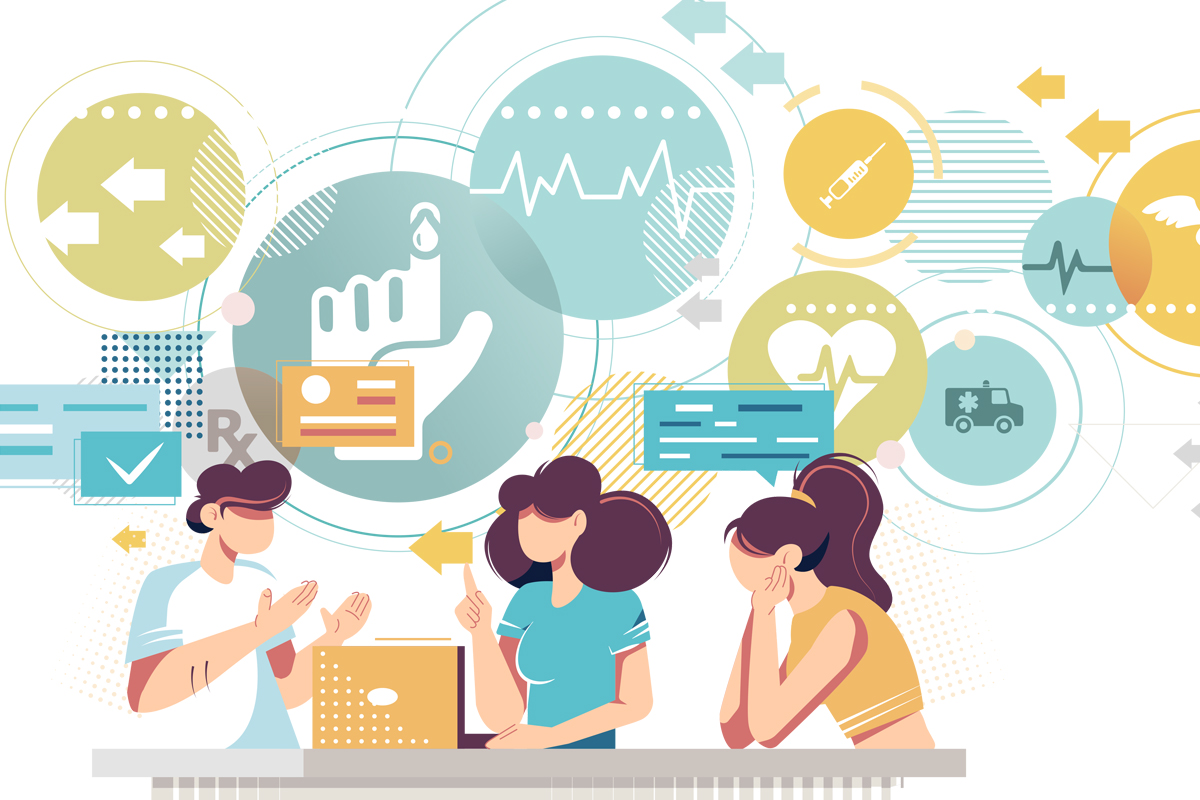 Think of it as the point-counterpoint discussion on obesity: Is the healthcare profession overemphasizing the negative consequences of extra weight? What are the risks? Is the focus on obesity helping or hurting our clients?
The debate was on in a recent edition of Medicine & Science in Sports & Exercise, as leading researchers (Gaesser & Blair 2019; Jakicic, Rogers & Donnelly 2019) went head-to-head on the issue. Here, we'll summarize key points and weigh in on the best practical applications of their competing theories, including evidence-based behavioral guidelines for treating obese populations.
The Case for Healthy Obesity
Are we overexaggerating the health risks of obesity? Gaesser & Blair say yes. They suggest that—for clients identified as having obesity (body mass index ≥30)—practitioners should focus more on improving health behaviors and less on weight loss strategies. The research team reports that its intent is not to minimize the risks of obesity but rather to show that there's a subpopulation of fit obese individuals who are not adversely affected by their adiposity.
Gaesser & Blair point to research indicating that cardiorespiratory fitness is a stronger predictor of mortality than obesity is and an important vital sign of health. In their conclusion, they urge healthcare professionals to promote a healthier lifestyle, including physical activity and healthy diet, rather than trying to ensure that clients achieve specific weight loss targets. The point? Individuals with obesity will be better served if we design programs primarily for enhancing fitness instead of combating fatness.
No, Obesity Is Always Jeopardizing
Jakicic, Rogers & Donnelly take a different stance. In their counterpoint article, they cite studies showing that obesity is associated with all causes of chronic disease and mortality, specifically pointing to cardiovascular disease mortality (in both men and women), several forms of cancer, and type 2 diabetes.
For patients with cancer, the team points to research showing that a higher BMI correlates with poorer survival and greater likelihood of recurrence. In regard to type 2 diabetes, they cite studies showing that weight loss can not only lower the risk of developing this disease but also reduce the need for medications to treat it. Illustrating all the adverse, Jakicic, Rogers & Donnelly propose that healthcare providers should target obesity similarly to other health risk factors (e.g., hypertension, hyperlipidemia, etc.) in their programming.
In other words, it's no exaggeration that obesity is risky business.
See also: Major Problem With Obesity Research
Both Sides Win
In this great weight debate, the parties agree on one important point: Fitness professionals and healthcare providers play a vital role in facilitating winning strategies for their clients. Both papers clearly state that interventions promoting an optimal healthy lifestyle are best and will lead to the greatest possible health benefits for clients. Jakicic, Rogers & Donnelly emphasize that fitness and health professionals should develop programming that promotes key lifestyle behaviors, such as sufficient physical activity, optimal nutrition, less sedentary behavior, no smoking and compliance with prescription medication.
Behavioral Approaches to Treat Obesity
Where do we start? Lifestyle interventions that help clients lose 1–2 pounds per week, resulting in 5%–10% weight loss by 6 months, are realistic (Olson, Bond & Wing 2017). To see such results, clients need a daily deficit of approximately 500–1,000 kilocalories—and an eating plan to make that possible. Olson, Bond & Wing (2017) suggest that people weighing less than 200 pounds strive for a daily goal of 1,000–1,500 kcal, while those weighing over 200 pounds aim for 1,500–1,800 kcal a day. The researchers emphasize that the behavioral approach should be individualized for the client, since successful weight loss can occur through either a low-carbohydrate or a low-fat diet; the key is some form of kilocalorie reduction.
SUCCESSFUL STRATEGIES FOR BEHAVIOR CHANGE
Olson and colleagues identify several strategies to help clients succeed:
Self-monitoring is the best predictor of a successful behavioral approach to treating obesity. When clients self-monitor body weight, food intake (including beverage consumption) and physical activity (e.g., via exercise logs and/or a pedometer app), it serves as a cue for them to recognize the effect of lifestyle on body weight and health outcomes.
Stimulus control helps clients learn to reduce cues that prompt eating and increase cues that encourage healthy lifestyle choices; for example, by removing high-calorie foods from the kitchen and replacing them with healthy low-calorie options.
Goal-setting and problem-solving are other smart strategies. For goal-setting, you can encourage clients to follow the S.M.A.R.T. principle (setting goals that are specific, manageable, attainable, realistic and time-limited). With problem-solving, you might discuss an upcoming situation—such as a party or stressful event—where a client could be tempted to overeat (or overdrink!). Together, you can establish strategies to manage the difficult situation.
ADDING EXERCISE TO THE MIX
When incorporating physical activity into the treatment of obesity, steady progression is key. Starting clients with 50 minutes per week of moderate-intensity activity (e.g., brisk walking) is appropriate. Olson, Bond & Wing recommend progressing to 200–250 minutes per week to maintain weight loss.
The research team emphasizes that successful obesity interventions should include planned strategies for combating sedentary behavior. And the team notes that—beyond the many clinical benefits—a successful weight loss program provides several psychological benefits, including reductions in depressive feelings and anxiety and improvements in self-esteem and body image.
Preventing Weight Regain
Unfortunately, experience has shown us that many clients put the pounds back on in the months following an intervention. Olson, Bond & Wing suggest that our societal obesogenic environment contributes to weight regain. An obesogenic environment includes
environmental stimuli that promote physical inactivity (elevators, escalators, delivery services, computer games, television watching, etc.); and
conditions that encourage overconsumption of food and drink (restaurant and fast-food portion sizes).
According to the researchers, clients who maintain a lower-calorie lifestyle, engage in regular physical activity and exercise, and self-monitor their weight are most likely to maintain weight loss over time. The investigators point to a previous study (MacLean et al. 2015) showing that one of the strongest, most reliable predictors of long-term weight maintenance (after weight loss) is regular exercise.
Take-Home Thoughts
So, what is the major take-home message from this "weight debate"? The evidence suggests that we reframe our client messaging to focus on attaining optimal health, including sufficient physical activity, optimal nutrition, less sedentary behavior, no smoking and compliance with prescription medication. For clients who come to you hoping to achieve new weight management goals, this approach can lead to meaningful and lasting results.
References
Gaesser, G.A., & Blair, S.N. 2019. The health risks of obesity have been exaggerated. Medicine & Science in Sports & Exercise, 51 (1), 218–21.
Jakicic, J.M., Rogers, R.J., & Donnelly, J.E. 2019. The health risks of obesity have not been exaggerated. Medicine & Science in Sports & Exercise, 51 (1), 222–25.
MacLean, P.S., et al. 2015. NIH working group report: innovative research to improve maintenance of weight loss. Obesity, 23 (1), 7–15.
Olson, K., Bond, D., & Wing, R.R. 2017. Behavioral approaches to the treatment of obesity. Rhode Island Medical Journal, 100 (2), 21–24.
When you buy something using the retail links in our content, we may earn a small commission. IDEA Health and Fitness Association does not accept money for editorial reviews. Read more about our Terms & Conditions and our Privacy Policy.
Concerned about your place in the new fitness industry? We have 40 years of experience supporting pros just like you! Let's create a new wellness paradigm together—IDEAfit+ is the extra edge you need. Once you team up with IDEA, be sure to take full advantage of all the benefits of membership.